Connection is not only essential for survival but for enrichment and pleasure, too; where there is connection there is ease. So why are we so disconnected from each other, and why are relationships so hard at times? For one thing, relationships are hard because we aren't exactly inundated with know-how. We often lack strong and consistent relationship role models; when we look to cultural messages thrust upon us from t.v., marketing, and media, we learn that relationships are supposed to be easy, breezy and without strife. So when the reality brings discord and difficulty we are not only confused, but we often remain secretive about it because of the shame of not getting it "right." Even worse, we often cover our shame with a need to display a pretended perfection – we "throw a smile on" and hope things will get better. Of course they don't.
Too often the clients I have worked with have tried "everything" to improve their quality of life and relationships without considering the significance of connection to themselves first.
The expectation is that we should be in relationship, with ourselves and with others, but there is scant information telling us how to do so.
We are making relationships harder than they need to be. Our culture supports and encourages us having a relationship but not much by way of understanding the inner workings of healthy, connected and easier relationships. As a sex and relationship therapist, as The Relationship Strategist, I have been privy to the inner workings of many relationships – I really do know what is going on in your neighbor's marriage – and in their bedroom. I come to you with years of insight into why relationships are in the state they are in, how we got to where we are, and what to do about it.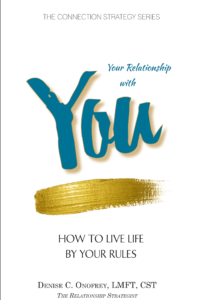 This is Book One of "The Connection Strategies Book Series" – a three part series. The purpose of the series is to provide you a resource for more connected and easier relationships. Book One, "Your Relationship with YOU: How to Live Life by Your Rules", is about YOU. It's a way to enrich, relearn (or learn for the first time) those life lessons you deserve in order to forge a more connected and easier relationships with YOURSELF. "Your Relationship with YOU: How to Live Life by Your Rules" will transform you into someone who knows how to have and create connection and ease because you will have formed a relationship of connection and ease with yourself. We would all have easier and more connected relationships with spouses, partners, children and colleagues if we sought the same desired qualities, meaning and purpose within ourselves prior to seeking relationship with others.
We are all shaped by our surroundings, by spoken and unspoken rules, our culture, our perceptions of what we are supposed to be, to do, to say, to feel, and to pursue. I wrote this book because I want each of us to have the opportunity to step back, to explore and to discover the rules we have been following; rules that no longer serve us. I want you to design your own way to show up and live your life. Lastly, I want each of us to add and eliminate factors keeping us from living the life we were intended to live. I want us all to be more empowered to buck the system – the usual, the rut, the daily grind we all fall into trying to get it "right" according to somebody else's rules.
My mission has long been to help each of us to better indulge in the finer things in life: relationships, connection, and ease. When we eliminate factors that create noise and distraction, as well as when we add key strategies to live with more connection and ease, our relationships will truly be our greatest asset. I am speaking about all types of relationships: parents, children, lovers, friends, neighbors, and community. At the end of the day, our riches come from the people around us; let's create key strategies to indulge in those riches more fully. But first, we have to start with the relationship we have with ourselves.
"Your Relationship with YOU: How to Live Life by Your Rules" will be available May 2017. Sign up to be notified as soon as it's available for purchase.